Feel inspired by some of the recent bespoke kitchens & bedrooms furnishing installations which we have completed for clients across the province and beyond.
All of our bespoke kitchens & bedrooms furnishings are designed in-house following consultation with the client, before being manufactured and fitted by our experienced and highly skilled team.
A design as individual as you are
Every client has their own unique taste and design ideas, while every room and home has its own challenges in terms of space or shape. At Croft Home Interiors, we see opportunities rather than problems, and use our 30 years of experience in the industry to create solutions which are both stylish and practical
Contact us today to discuss your requirements, and we'll show you what we can do to help create a stylish and bespoke solution which is as individual as you are.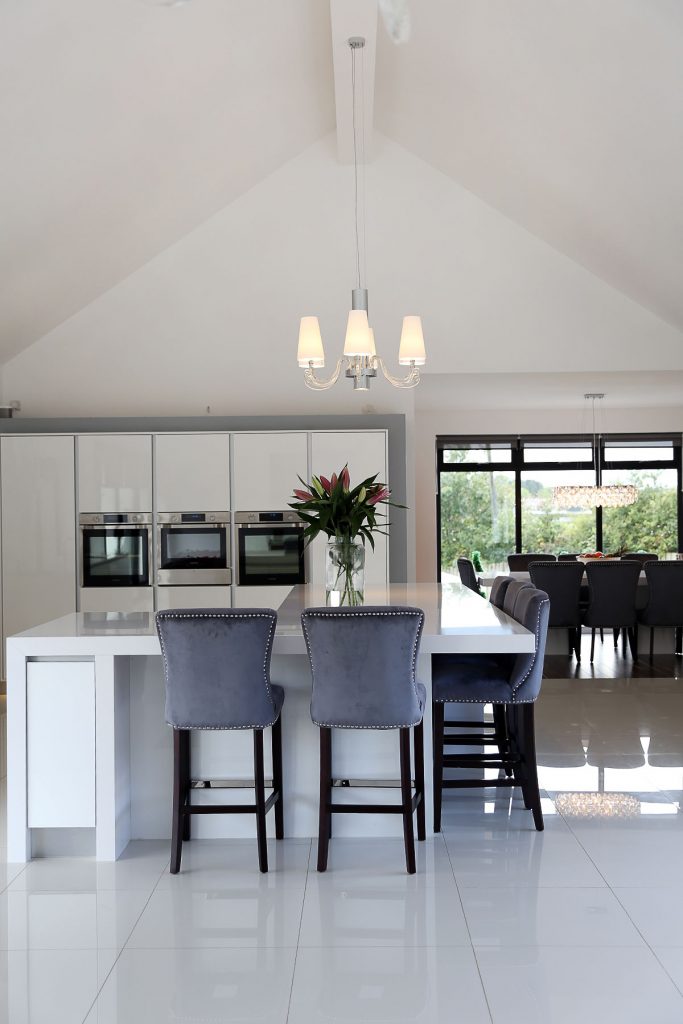 High spec high gloss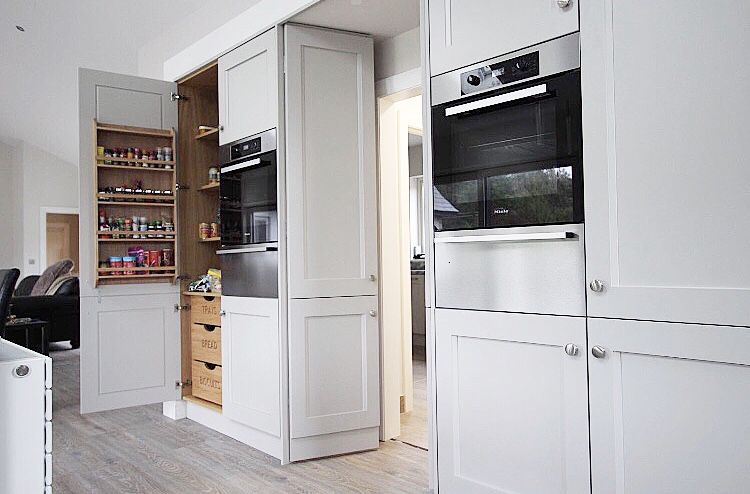 Open plan luxury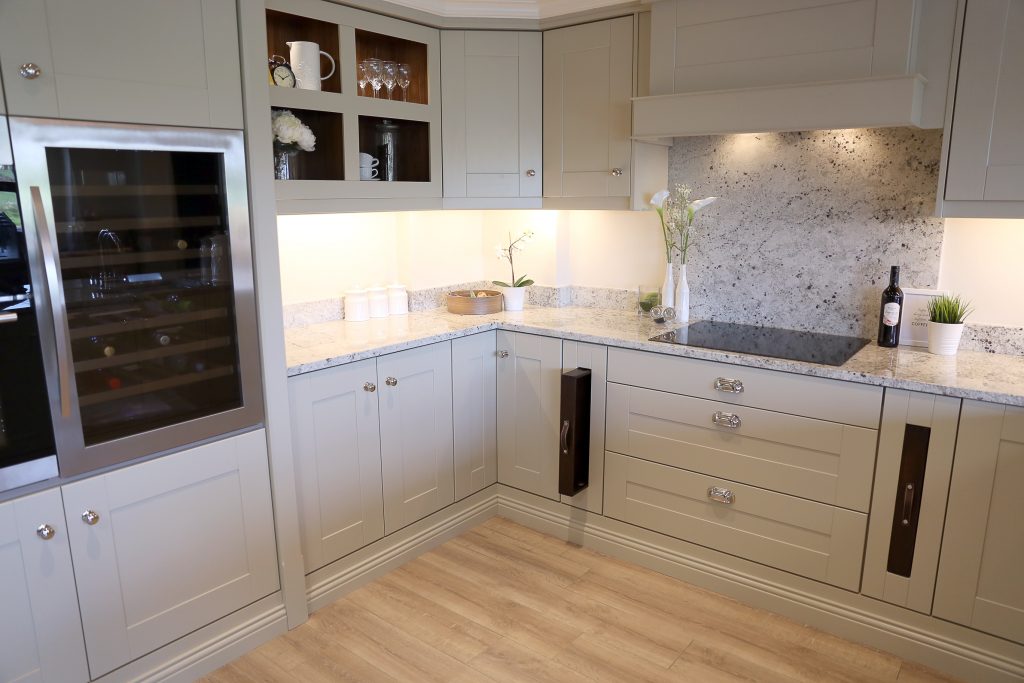 Compact but perfect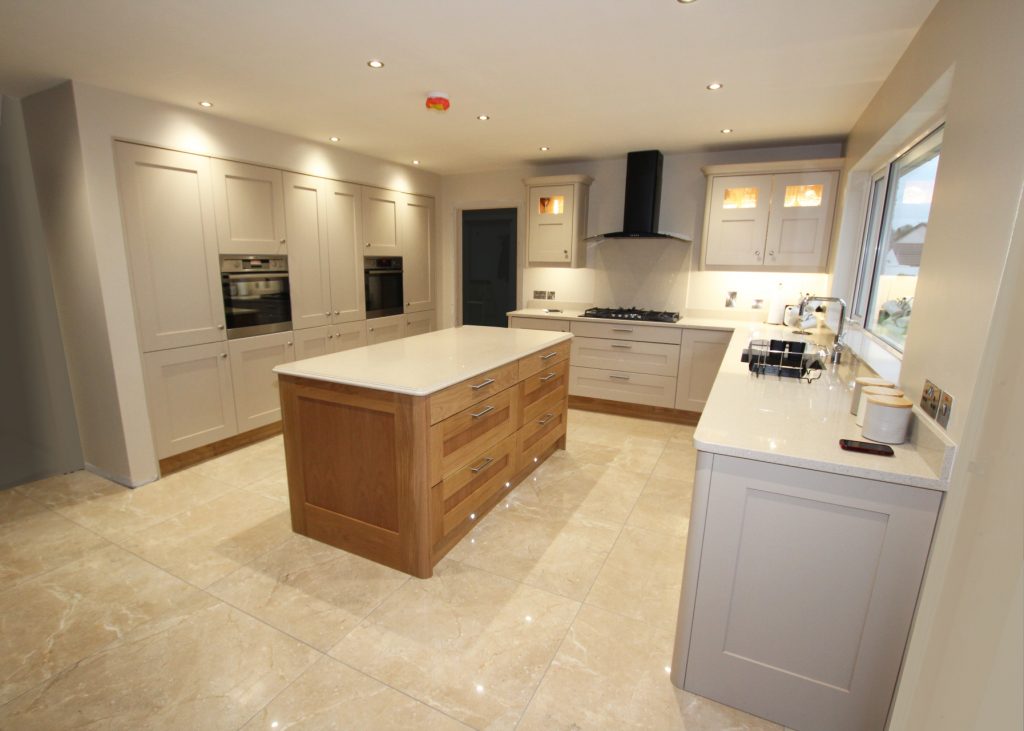 Contemporary family living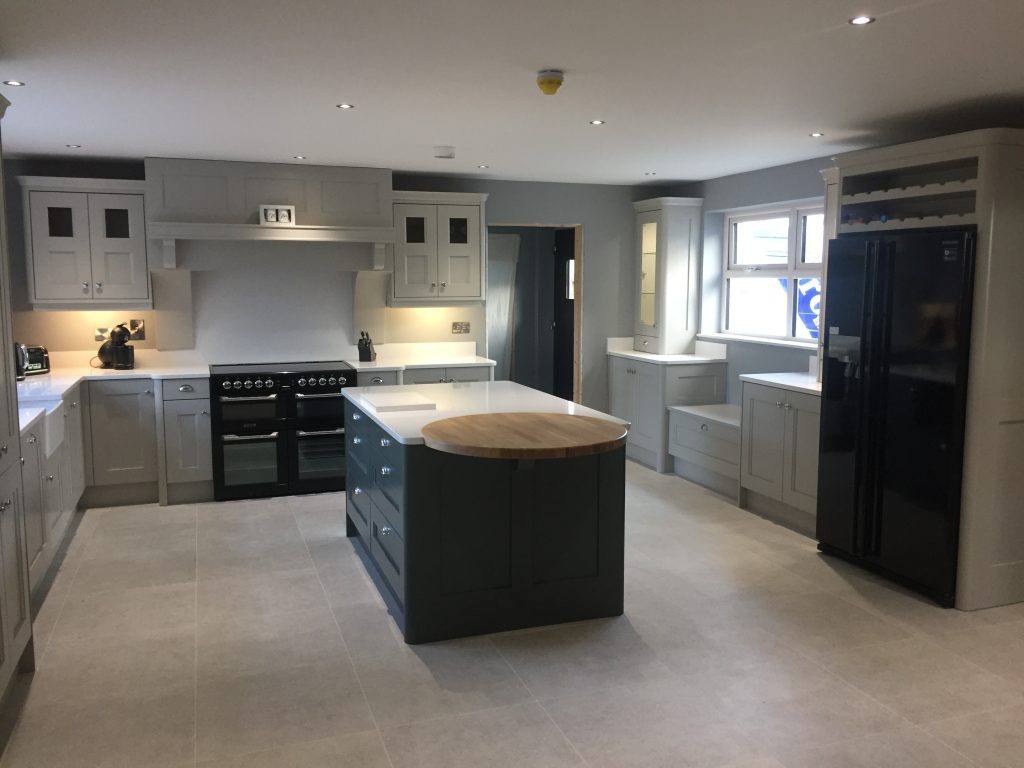 Classic contrasts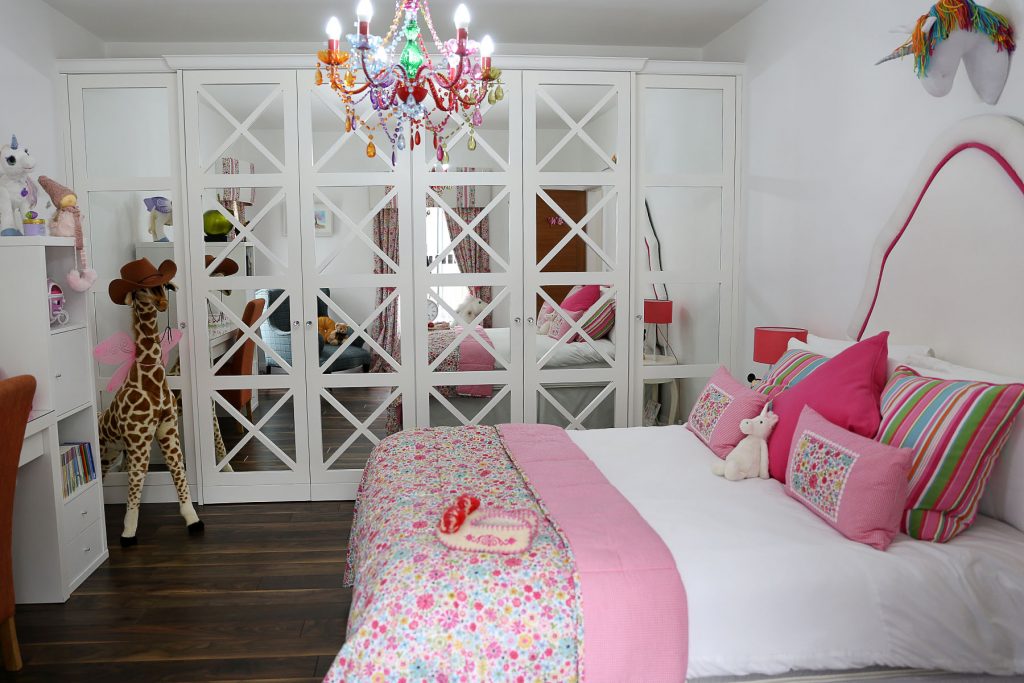 Fit for a princess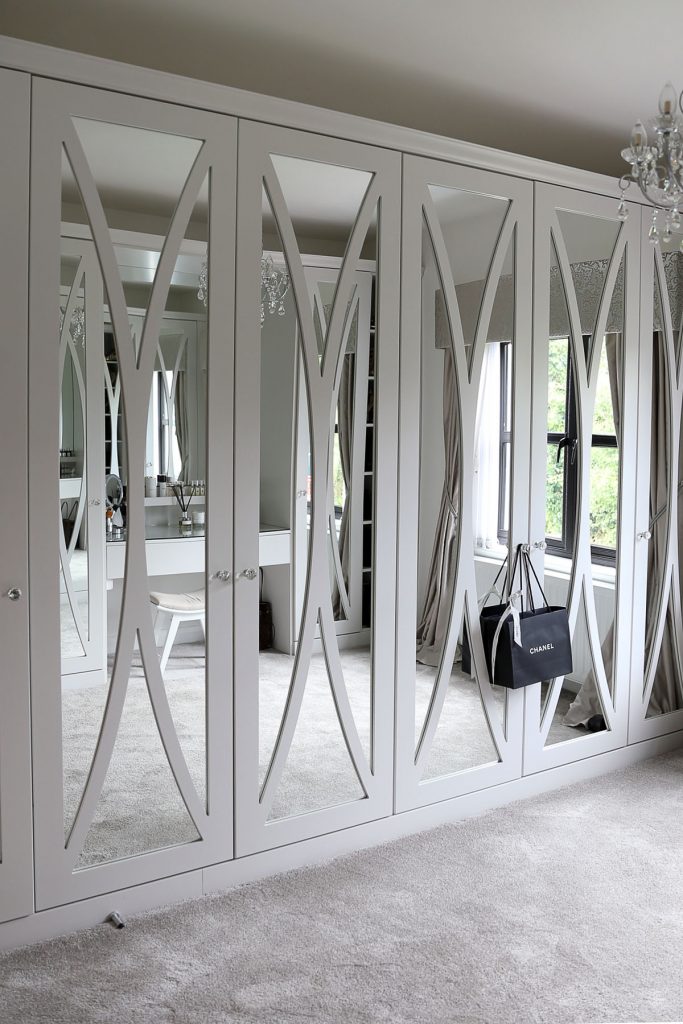 Bedroom luxury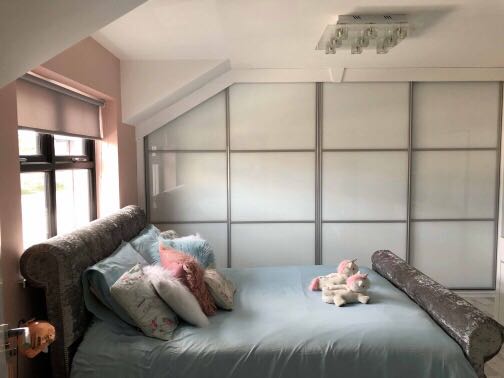 Stylish storage solutions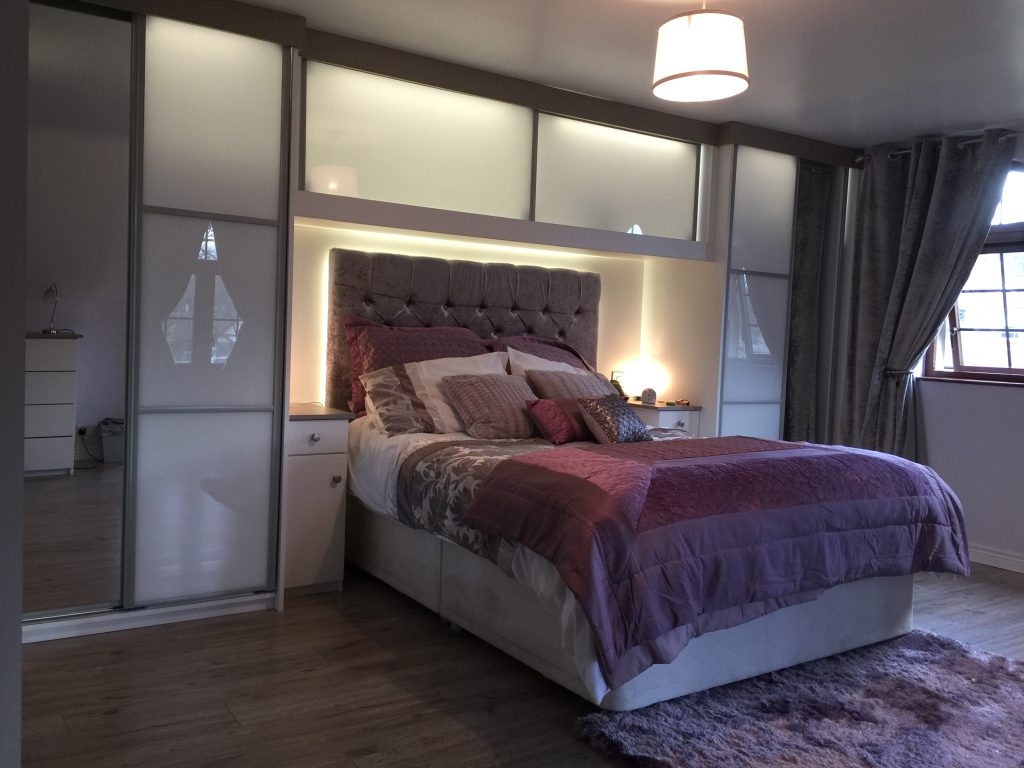 A little different
High spec high gloss

This modern, spacious new-build in the heart of Mid Ulster presented the sort of blank canvas that our designers dream about.

It has high gloss white doors throughout, using the German Gala handle system. This comprises of J and C profile pull handles on the horizontal units, factory fitted into the kitchen carcas, and the matching D profile on the tall vertical units. Stainless steel toespace brings a splash of colour and contrast, almost lifting the units off the floor.

The large 'L'-shaped island dominates the kitchen area, topped with 80mm quartz worktop and surround creating an even more dominant presence. The high units are surrounded by a grey surround, designed and created by Croft, to create a sense that the units are floating away from the wall.

The kitchen is completed with eye line appliances, with two Neff brand steam ovens either side of a combi microwave which has a plate warming drawer below. A Bora induction hob utilises a recirculating air unit for maximum efficiency. The fridge and freezer are fully integrated, with a double wine cooler housed within the island.

To tie the kitchen and dining room area together, the large dining room table is topped with the same deep 80mm granite as the worktops, completing the theme and putting the finishing touches to a truly wonderful space ideal either for entertaining or for everyday family life.

Open plan luxury

Having been recommended by a local architect, Croft Home Interiors worked alongside the client, their architect and contractor to create a truly stunning kitchen area in this renovation job in Malahide, Dublin.

The doors are solid ash, with a stone painted finish. The traditional shaker doors were given a chamfered internal edge for added design detail. The wider low-level drawers provide ample storage space for pans, with the internal fittings holding plates and bowls securely.

The units are topped with a starlight white style stone worktops, including upstands and large backsplash behind the cooking area. A Blanco square undermounted sink provides a continuous flow to the worktop surface, while a boiling water hot tap adds time-saving convenience for the busy occupants.

Double full-length doors provide the access to a walk-in pantry, where larger appliances are held as well as additional worktop space for food and baking preparation, while a single larder within the main kitchen area is kitted out with shelving, spice racks and bread drawers.

One of the key design features was that the clients wanted a seating area for quick meals such as breakfast, as they already had a large dining space adjacent. The result was the stunning rounded breakfast bar area, with a tongue and groove knee space and butcher block walnut top providing a stylish contrast to the rest of the kitchen area.

We think you'll agree that it is a really beautiful kitchen area, one which is both stylish and practical, and which is the kitchen envy of many of their neighbours and family members.

Compact but perfect

Very traditional in its design but with a few modern twists, this off-white painted kitchen has traditional mouldings to the ceiling and flush moulded skirtings and plinths, meaning there are no dust-gathering corners at floor level.

Like many of our kitchens, they are built with a semi-frame, giving the feel of an in-frame kitchen without the costs normally associated with such a design.

It boasts a timeless mantle, while an open display unit with walnut tongue and groove interior provides an eye-catching contrast to the main unit colourway.

A mix of cup and knob handles from Mulberry are used depending on the purpose, making the extra wide pan and plate drawers with their convenient internal layouts suitably easy to open, with pull out serving tray detail either side accentuating the wide drawers as a design feature.

The units are topped with a Dekton work surface, with a fully recessed drainer leading into a bowl and a half Blanco sink complimented by swan neck Blanco mixer taps, while the eye-line kitchen allows for ease of use and maximum convenience.

The key design feature of the entire kitchen though is the circular peninsula, with a walnut butcher block top to be used either as a food prep or a serving area.

Currently available to view in our showroom, this off-white painted kitchen is a very popular choice with prospective clients.

Contemporary family living

Can you see the difference the matching decor gables make to this kitchen? They tie everything together and create a real feeling of grandure.

The contrast between the cream painted units around the outside and the natural oak finish of the island, with its own small seating area, is linked by the oak kickboards throughout. They are further tied together by the oak finish on the interior of the pocket glass display cabinets. 

A double larder is centred between an integrated fridge and freezer at each end to create a perfect balance on the feature wall. The surround which wraps around those units was created by our expert team here at Croft, elevating the status of the kitchen to something which look and feels even more luxurious. 

On the opposite wall, there are no units or pelmet across the window. This is to give a more modern feel, and also to maximise the amount of light entering the room. Silestone worksurfaces throughout compliment the natural stone flooring, again opening up the space as much as possible. 

The kitchen is completed by an undermounted Blanco sink, with boiling hot water tap for added convenience and efficiency, while the units are underlit by LED bullet lights to further accentuate the contrasting colourways.

Classic contrasts

Working hand in hand with a local interior designer, this two tone kitchen was always going to be something very special. 

The island is of course the statement feature, darker in colour to contrast with the stone coloured painted units around the perimeter. It is finished with a walnut butcher block style radius peninsula, big enough to be used for food prep or to provide seating for two people. 

However, each wall of the kitchen area carries its own noteable feature...

The traditional Belfast sink with its swan neck taps sits prominently underneath one of the windows, while on the opposite side of the room there's under window seating to provide a welcome twist from the standard kitchen layout. 

The striking overmantle is one of the first things visitors to the kitchen will notice, its curved legs ensuring that it does not intrude on valuable worktop space, while pocket glass display units either side draw the eyes towards the feature mantle. 

The starlight stylestone work surfaces are complimented with matching upstands, splashback and window sills, while a double larder provides convenient storage in the main kitchen area. A wine rack above the large American-style fridge freezer, and an ornamental display area in the side of the island, are other attention-grabbing design elements included.  

The kitchen has radius posts and matching decor gables throughout, providing the sort of you would expect from an installation of this calibre. 

Fit for a princess

When you've got a feature piece of bedroom furniture like these wardrobes, the room looks after itself.

Fretwork doors are a speciality of Croft Home Interiors, and the four centre doors provide just the right amount of detail, accentuated by the more plain doors which occupy each end.

Internally there is a mix of high and low rails, shelves and drawers to optimise the amount of storage space available.

Simple white frames with mirrors, the look will not date and will compliment any changes in decor, ensuring that the wardrobes will grow up alongside the room's occupant.

Bedroom luxury

All of the evidence shows that we sleep better in rooms which are clear and uncluttered. A set of wardrobes like these tick all the boxes; ample storage space for clothes, shoes and accessories, the practicality of having a large mirrored space, and of course they look so visually stunning that there's no need to try to make eye-catching efforts elsewhere.

This is the sort of space that makes you not only go to sleep with a smile on your face, but wake up feeling exactly the same way. Slick and stylish, our speciality fretworked doors can transform any bedroom, adding value as well as providing practical storage solutions.

All of our bedroom furniture is manufactured in-house. We've been doing this for three decades and guarantee the highest levels of craftsmanship. Working together, we can design and deliver something which you feel extremely proud of.

Stylish storage solutions

Sloped ceilings are not a problem for our sliding wardrobe systems. In fact they're something of a speciality for us.

The client was keen to upgrade the storage in their master bedroom, and opted for this four-door cream deco glass sliding wardrobe unit, containing a mix of high and low rails, shelves and drawers inside.

The relatively neutral colour scheme allowed them to build the décor around the unit, making it the design focal point of the room, and with amazing results.

As well as the bedroom unit, the client also required a storage solution for their walk-in wardrobe area.

They wanted their clothing to be protected from sunlight and dust, but the space constraints meant that open out wardrobe doors were not an option.

That's why Croft's sliding robes provided such a great option, maximising the space available with up to 30 percent more space than traditional free-standing bedroom furniture.

A little different

Sliding robes don't just have to be a large rectangular mass of storage space.

This client wanted to maximise the use of space available around the bed in their master bedroom, so we came up with something a little bit different.

Double full height sliding doors at either side of the bed provide the bulk of the storage space, but the shallow double unit above the bed creates not only a great overhead space, but also completes the design by bridging between the two side units.

Working alongside the electrical contractor, soft backlighting accentuates the translucent coloured glass doors even further creating a masterpiece in bedroom furniture terms.